24 Jan 2018
17:30
JOSPEPHS Innovation Lab, Karl-Grillenberger-Straße, Hintere Ledergasse 44, 90402 Nürnberg
Prosumer Talks with Laura Sobral
Thema des Prosumer Talks im Josephs ist diesmal: Co-Creating Urban Life – Popular Engagement to shift Urban Environments.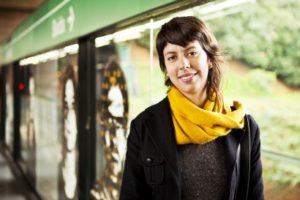 Laura Sobral – Director of The City Needs You Institute and Alexander von Humboldt Foundation fellow is an architect, urbanist and urban commons activist. In 2014 she started a movement engaging citizens to reclaim and re-create urban spaces from the bottom up, transforming some areas of Sao Paulo, the Brazilian megacity. The popular movement developed into an internationally recognized institute. Laura will share her learnings on how to bring people together, co-create and prototype new possibilities. Such learnings could be applied by any person or organization working areas where the lines between providers and consumers are blurring.
About Prosumer Talks: Creating Value in a Prosumer World
In this lecture series, GfK Verein – in co-operation with JOSPEHS® – invites experts from different sectors who share their experiences with the "prosumers" – from the perspective of established companies as well as from the perspective of digital platforms, start-ups and crowdfunding platforms.
Nach dem Vortrag sind alle Gäste dazu eingeladen, Networking zu betreiben und interessante Gespräche bei ein paar Drinks und Snacks zu genießen. Der Eintritt zu der Veranstaltung, die auf Englisch abgehalten wird, ist frei. Interessierte werden aber gebeten, sich unter XING EVENTS zu registrieren, um sich einen Platz zu reservieren. Für alle anderen gilt: Wer zuerst kommt, mahlt zuerst.